Posted By
American drone registration decline – sUAS News – The Business of Drones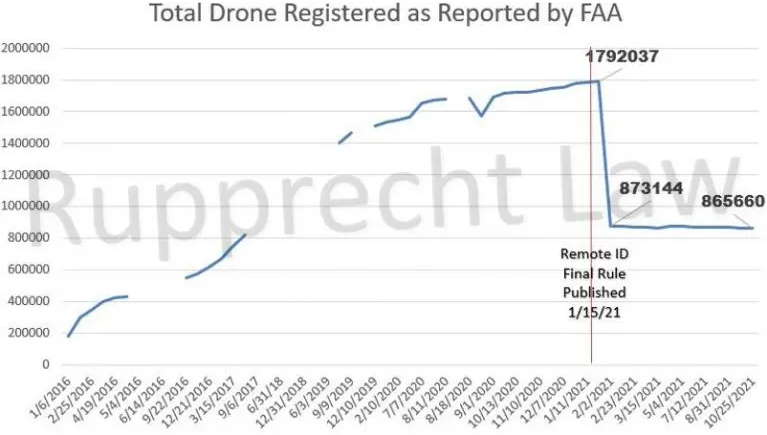 Many people are looking for drone registration statistics. While the Part 47 registration database is publicly available, the Part 48 registration database is not. The vast majority of drones register under Part 48. The FAA has released Part 48 drone registration data in pieces. They haven't ever bundled it all together to see what is going on overtime. You have to search around and find snippets.
When you piece it all together, you'll start noticing interesting things. I compiled this graph-based upon FAA sources around the net. A news article, PDF, announcement, etc. would provide the numbers. I just compiled them all with the date.
Total Drone Registration Numbers Are Falling
Everyone has been hyping drones and saying things are growing, etc.  The total registrations are actually descending.
You'll also notice the timing of the numbers is interesting. AFTER the remote ID rule came out, drone registrations dropped by more than 50% which leads to the conclusion that FAA was not reporting the numbers honestly.
The FAA has been reporting drones "registered" but one can think about how this is dishonest. People are interested in the current drone fleet, not drones ever registered.
I believe the numbers published from February 2021 onwards are the current drone fleet.