Posted By
Control & manage your Mavic 2 drone for Just $79 Per Year: FlytNow Black Friday Sale is now live – sUAS News – The Business of Drones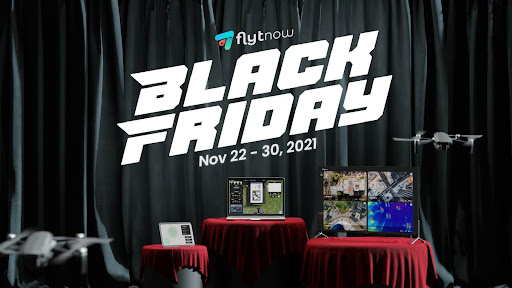 San Jose, California (USA), November, 2021: On account of Black Friday and Cyber Monday, drone-automation SaaS provider FlytBase comes back with its biggest sale of the year—starting Monday, Nov 22, all through the end of the month.
Drone service providers (DSPs) can now avail discounts of up to 90% on annual
subscriptions to FlytBase's remote drone operations and fleet management software,
FlytNow Live. For those exploring drone-in-a-box (DiaB) technology and testing
autonomous aerial workflows without a docking station, the Flytnow Auto+ Starter Kit is now available at nearly 70% off its retail price.
Kickstart your drone program with FlytNow today: https://flytnow.com/black-friday/.
Who Should Buy FlytNow?
Drones have proved their mettle in several industries—whether it's monitoring massive high-value assets or gaining crucial information preemptively during emergencies (that simply wouldn't be as efficient with manual workforces), drones can fly almost anywhere and capture almost anything in great detail.
As several DSPs move away from manual piloting to automated and remote drone
workflows to increase ROIs, scalability, and time-to-market, FlytNow helps make the jump more seamless with its various cloud-based offerings. Suitable for drone-preneurs and businesses of all sizes, this solution is ideal for remotely deploying, operating, and monitoring drone fleets on complex waypoint-based missions for security, construction monitoring, asset inspection, and public safety/first response.
What is FlytNow Live?
A turnkey software for drone teleoperations, FlytNow Live allows users to manage and control entire fleets and view HD drone-video feed over 4G/LTE at ultra-low latency via a user-friendly web dashboard. They can also dispatch drones to a specific location on command for real-time situational awareness during incidents. Multiple safety features are baked into the design of FlytNow Live, including failsafe & geofence configurations, DJI's collision-avoidance module, and secure (E2E-encrypted) communication between the drone and dashboard.
For the first time ever, FlytBase is offering annual subscriptions to FlytNow Live at just USD 89 per drone (reg. USD 588). That's only about $7 a month. What's more, you can avail additional offer bumps during checkout: adding a second drone to your purchase automatically drops the price to USD 79. At this price point, equipping your drones with FlytNow Live this holiday season is an absolute no brainer.
For teams that require additional features such as payload control, grid missions, and
comprehensive mission logging, FlytNow Live+ is the way to go. Valued at USD 1,188 per drone (per year), you can now purchase FlytNow Live+ at just USD 139!
For a detailed breakup of all the features included in FlytNow Live & Live+, please visit the FlytNow pricing page: https://flytnow.com/pricing/.
More about the FlytNow Auto+ Starter Kit Intended for all DJI Mavic 2 series drones, including the latest Mavic 2 Enterprise Advanced, the primary component of the FlytNow Auto+ Starter Kit is a single-board computer (SBC) that runs FlytNow Auto—a FlytNow offering for DiaB automation. With advanced modules such as Precision Landing preloaded in the SBC (apart from all the features included in FlytNow Live), the kit helps DSPs run autonomous missions and land their drones with centimetre-level accuracy—all before making the crucial business decision of building or purchasing a docking station.
A highly useful tool for testing the waters and realizing the potential of autonomous
drones, the FlytNow Auto+ Starter Kit is a DSPs perfect entry to a modular & reliable DiaB system. Each kit can now be purchased at just USD 399 (reg. USD 999) and comes with a 2-month subscription to FlytNow Auto+.
Get the FlytNow Auto+ Starter Kit now: https://flytnow.com/black-friday/
Giveaway Alert
To add to the excitement, FlytBase is also giving away free annual subscriptions of
FlytNow Live to 5 lucky winners. The FlytNow Giveaway is open to all – participate here: https://explore.flytbase.com/bf-giveaway
About FlytBase
Founded in 2016, FlytBase, Inc., a Silicon Valley company, has built the world's first
Internet of Drones (IoD) platform, providing drone-agnostic software solutions to
automate and scale drone operations. FlytBase offerings are compatible with major
drone hardware platforms (e.g., DJI, Ardupilot, PX4) and come with SDKs, simulators, and APIs for ease of application development and seamless integration. FlytBase was a part of Cisco's accelerator program and was recognised as the Grand Champion at the NTT Data's Global Innovation Contest.