Posted By
Schiebel and Thales demonstrate maritime information advantage in recent Camcopter S-100 UK flight trials – sUAS News – The Business of Drones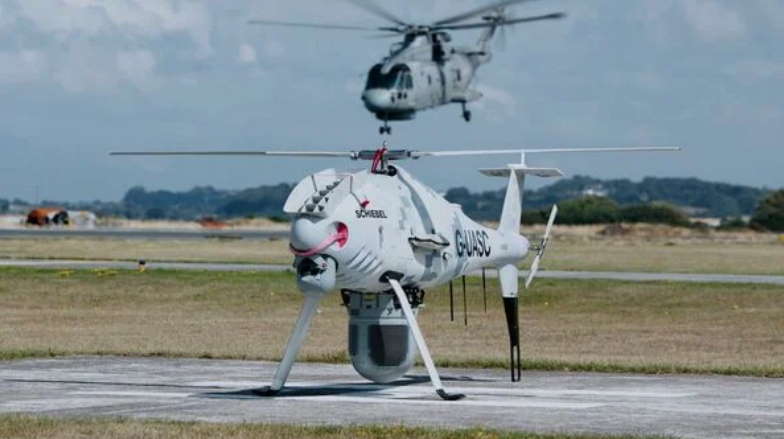 Thales and Schiebel have delivered the most comprehensive maritime sensor suite to be fitted to the CAMCOPTER® S-100 during UK flight trials in August 2021. Operating off the North Wales coastline, the trials demonstrated how a navy warship can benefit from the intelligence gathered over an extended operating range, to prevail in a maritime or littoral operation.
The S-100 has been fitted with an integrated sensor suite comprising of the Thales I-Master radar operating with maritime modes, the IAI POP®ULTRA EO/IR sensor pod, IFF transceiver and AIS receiver.
The sensor suite data was fused together using the CarteNav AIMS Mission System to provide wide-area radar coverage to compliment a ship's radar, and rapid identification by dynamic tasking to position the platform for imagery/video evidence. 
To complete the trial, intelligence was delivered into the Thales TACTICOS Combat Mission System using a Digital Supervisor/OARIS bridge, proving both data integration and CMS level dynamic tasking of the S-100 platform.
The success of the trial builds on a combined experience and expertise in maritime operations, data management and unmanned vehicle development. It demonstrated a proven intelligence capability to extend the operating reach of a ships sensor suite that can be operated for both military and civil.
"Our S-100 is a proven capability and is in service with a number of Navy's around the world," said Neil Hunter of Schiebel. "We have extensive experience flying off ship decks, not just alongside but at sea in demanding wind and sea state. The sensor suite we have demonstrated in the UK shows the S-100 flexibility to work with a range of sensor types, and in this configuration, we believe meets a lot of emerging navy requirements."
Matt Moore of Thales said: "Operating the S-100 with this unique sensor fit delivered a real game-change in naval surveillance. Having combined wide-area surveillance and the ability to dynamically identify, it offers a true extension to a ship's existing sensing capability. We were able to track targets, cross-cue a distant radar track with its EO/IR sensors to give a positive identification which was then checked against AIS to assess its intentions".
"Most UAVs operate in restricted, military-controlled airspace," said Neil. "We flew in civilian airspace and we were able to show the CAA evidence that here is a mature system that's safe to operate at sea, over beach areas and land. Getting CAA approval was important, and they are happy we can fly in UK airspace."
Schiebel S-100
The S-100 has been delivering mission success for multiple customers around the world at sea and on land, by day and night and in adverse weather conditions. Over the last 15 years the Schiebel CAMCOPTER® S-100 rotary wing UAS has seen operation with over 25 customers and in the maritime domain has completed over 2,000 deck landings onto a wide variety of single-spot sea-going vessels.
Thales I-Master
I-Master is in use with a number of customers around the world, including the British Army's Watchkeeper TUAS. It gained its sea leg capabilities back in 2014 with the inclusion of enhanced Maritime Modes, comprehensively proving them during the Royal Navy's Unmanned Warrior exercise in 2016