Posted By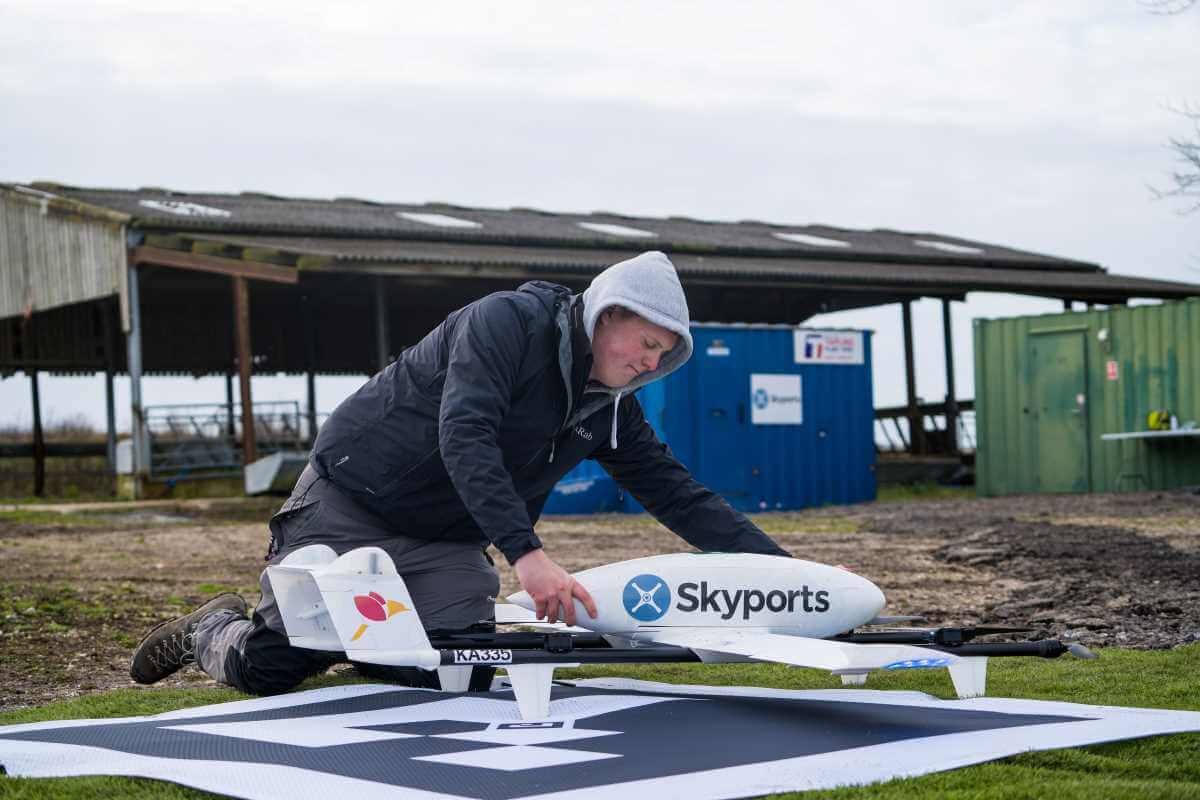 Leading drone operator Skyports Drone Services has launched a large-scale employment programme aimed at recruiting personnel to support the rollout of drone operations across existing and emerging markets. The Hub Operator Programme is an open call for applicants willing to travel for extended periods of time and work at the cutting-edge of drone operations.
The programme has been launched by Skyports Drone Services in a bid to develop operational support and expertise across the company's key markets for 2023, including Colombia, UAE, the UK, Kenya and Korea. With the drone industry booming, the programme highlights a need for new expertise and capabilities to enable the benefits of drone operations to be realised and scaled.
Successful applicants to the Hub Operator Programme will work alongside Skyports Drone Services' team of experienced drone pilots to support flight operations. Hub Operators will support through the execution of non-safety critical roles, including: assisting the management and set up of flight hubs to enable efficient and safe aircraft landings and departures; the execution of key checklists required for the safe operation of Skyports Drone Services' aircraft; and situational awareness support. Applicants will undertake extensive training and ongoing guidance throughout the programme to ensure they meet Skyports Drone Services high safety standard.
Suitable Hub Operator candidates will be available for a minimum of three months a year (this can be split up throughout the year) and will be expected to travel for between one and eight weeks at a time. For applicants wishing to continue working within the drone industry after the programme, there will be opportunities to explore permanent roles in the business.
Alex Brown, Director, Skyports Drone Services, said: "Demand for drone operations has sky rocketed in the last 18 months and we're busier than ever with our delivery, survey and monitoring services. The Hub Operator Programme will enable us to achieve the ambitions we have set for ourselves in the year ahead, ensuring we always have people at the ready to support us in the deployment of our operations.
"Workforce development is a critical, but often forgotten, consideration in the growth of a new industry. With the Hub Operator programme, we hope to future proof our operations and inspire more people to join this exciting, rapidly growing industry."
More information regarding the Hub Operator Programme and application can be found at the
below links:
• UK Hub Operator
• Singapore Hub Operator
About Skyports Drone Services
Skyports Drone Services is a provider and operator of eVTOL drones for cargo drone deliveries, survey and surveillance. Skyports Drone Services is expert in the operation of long-range and Beyond Visual Line of Sight (BVLOS) autonomous flight for a multitude of use cases, including ship-to-shore and maritime applications, medical and dangerous goods deliveries, and AI-driven surveys for the agriculture and infrastructure sectors. Skyports Drone Services is committed to elevating business potential, connectivity and access to critical supplies through the application of drone services.
Headquartered in London, United Kingdom, Skyports Drone Services has projects operating across four continents including Asia, North America, South America, and Europe. Skyports' investors include Deutsche Bahn Digital Ventures, Groupe ADP, Irelandia Aviation, Levitate Capital, Solar Ventus, The Goodman Group, Kanematsu Corporation, Ardian, F2i, GreenPoint, and ST Engineering Ventures.
Find out more at: www.skyportsdroneservices.com