Posted By
UK CAA – RPAS Sector Inspector – sUAS News – The Business of Drones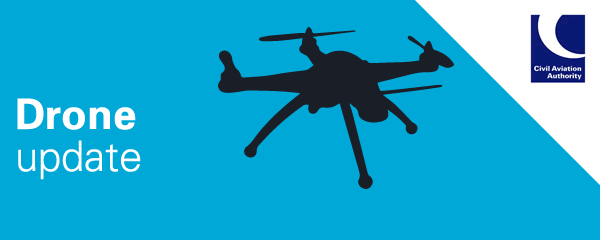 Salary: £48,454 up to £60,000 depending on skills and experience
Contract type: Permanent
We are the UK's aviation regulator and recognised as a world leader in our field. Our activities are diverse, enabling the aviation industry to meet the highest safety standards and we pride ourselves on our ability to adapt to the constantly changing aviation environment.
The Role
Remote Piloted Aircraft Systems (RPAS), otherwise known as UAS, is one of the fastest moving, technologically innovative, and generally ground-breaking forces in aviation today. The CAA are currently looking for two RPAS Sector Inspectors to join the RPAS business unit. As a member of the RPAS team you'll be given the chance to help to craft this burgeoning area of the aviation landscape.
As an RPAS Sector Inspector, you will often be faced with a wide variety of new and exciting technical challenges and proposals from industry partners. It will then be your duty to audit the safety of RPAS organisations/operators and assess their compliance with regulations, in line with Performance-Based Regulation (PBR) principles. Ultimately, however, this may not always be as straightforward a situation as rigidly applying current regulations. Often the circumstances of the operator may require you to think creatively, problem-solve and innovate new solutions with the business unit. This is done with the goal of assisting the wider business in achieving the CAA's aims regarding RPAS and their safe use.
Another crucial part of the role will be your ability to engage with internal and external groups and ensure the effective management of RPAS safety risks in the UK CAA's Regulatory Management System. This is achieved through the delivery of an effective RPAS oversight regime and by liaising closely with other internal CAA teams.
This is an outstanding opportunity for someone with a background as an RPAS/UAS Ops Manager, Aircrew, Engineering, Airworthiness or Safety Management professional. It will see you utilise your practical experience in novel and exciting ways. As well as this, it offers you a great opportunity to be part of an ever-growing and dynamic industry.
About You
You'll have significant technical or operational aviation experience. You may hold an engineering degree, Aircraft Maintenance Engineer's License or have gained equivalent experience through your career. You may have been a qualified civilian or military pilot, rated on a Medium Altitude Long Endurance RPAS or similar aircraft, with significant instructional or examining experience.
You should have detailed knowledge of the functioning of UAS/RPAS regulation through significant and proven experience.
Experience of oversight or audit systems and regimes is required.
Knowledge of wider aviation matters and national rules that govern RPAS of all shapes and sizes is desirable.
Personal attributes of the post holder will include team working ability with a flexible and adaptable work ethos. Innovative thinking and problem solving skills are essential.
You'll exhibit excellent written and oral communication skills across all levels and be capable of producing concise, unambiguous discussion papers for presentation at various bodies within the CAA and wider industry
What can we offer you?
You'll benefit from an organisation that is passionate about your development in this exciting area. As the UAS sector continues to grow, within the UK and beyond, you'll be able to drive its development and be a critical part of ensuring that unmanned aircraft operate safely in UK airspace. From assessing initial safety cases through to auditing sophisticated operations on site, you will be a key element in delivering the highest quality of safety-focused regulation to the industry.
Would you like the opportunity to influence this developing sector and work for a respected worldwide regulatory authority? If so, please get in contact.
Working With Us
We offer a range of excellent benefits such as flexible working arrangements, free onsite gym at Gatwick, discounted gym membership for London, 28 days annual leave, additional 5 days leave purchase scheme, a generous pension scheme and much more!
We are on a journey towards being increasingly adaptable, where our colleagues collaborate as part of cross-functional teams. This approach ensures we never stop learning together. It also means that you may become involved in activities that take you out of your day to day role, providing you with opportunities to develop and grow your career with us.
We have embraced hybrid working and offer flexible working patterns, being open to having a conversation about what works for you. We know where and when we work is important in achieving a work-life balance.
We are passionate about diversity and ensuring all are included at the CAA. We are an equal opportunity employer and actively encourage applications from candidates of all backgrounds. We use fair and inclusive selection approaches to hire the best person for the job based on merit alone.
As a member of the Disability Confident scheme, applicants who meet the minimum criteria for a role with us will be guaranteed an interview. If you require an adjustment for any reason, please let us know.
Our Values
Do The Right Thing, Never Stop Learning, Build Collaborative Relationships, Respect Everyone – For more information please visit the CAA Values channel in Teams.
Additional Information
Given the impact of Covid-19, it's likely that you will work remotely to begin with as we plan for a return to work within the government guidelines.
Closing Date: 25/01/2022
Interview Date: 3rd or 4th of February 2022
Please note that due to the current Covid-19 situation, all interviews will be conducted online by video conference using Microsoft Teams.